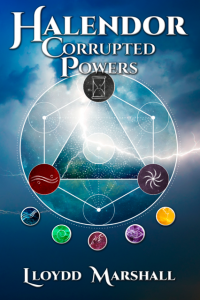 Book #2 of 21 Halendor Series
Pages: 409
Fantasy/Science Fiction; Strong Female Lead
ISBN: 978-1-943549-97-9
eBook: $4.99 | Print:  $18.95
Available at all of your favorite booksellers.
Aurora Van de Velde is the Psychic Element, leader of one of the most powerful coven of witches to have ever walked the worlds. She is plagued with visions that she can't quite understand.
The Earth Element, Eric Fields, endures an abusive father. He has found solace in new friends who have helped him to stand up for himself.
Britney Dallas is the Water Element who does everything she can to keep herself upbeat while her mother languishes in a coma. Finding others with powers like hers has given her an outlet unlike any other.
Enigmatic Lina Saunders is the Air Element. Her fears are deep due to a past she is unwilling to divulge fully to her friends despite the freedom they have found in one another.
Together, their quest for the elusive Fire Element continues — all while evil forces pursue the Triad of Powers necessary to free Ira, the Queen of Wrath. This becomes a dangerous combination.
Will the Elements survive long enough to find the elusive Fire Element?
Buy Link: https://www.amazon.com/Halendor-Corrupted-Powers-Lloydd-Marshall/dp/1943549974/