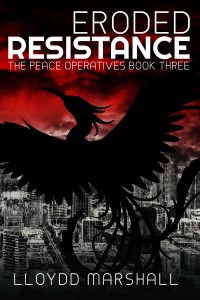 Book #3 of 6 of The Peace Operatives Series
Pages: 259
Action/Adventure: Science Fiction: Political Thriller
ISBN: 978-1-943549-92-6
eBook: $4.99 | Print:  $14.95
Available at all of your favorite booksellers.
Harper Davidson is a Peace Operative no more!
Stripped of her position by the Senate Subcommittee, Harper has taken a step back from her official duties—on the surface. She knows that the remnants of the Resistance of the Phoenix are out there waiting to make their next strike against the government. To do so, however, they'll have to eliminate her.
One audacious plan has already been formulated by Harper and her closest allies; a plan they intend to spring on the fragments of the treasonous miscreants
Unfortunately, Henrik and Joaquin, the two most notable leaders of the remaining Resistance, are trying to stop Harper permanently. Add in an unseen organization possibly pulling everyone's strings and all the planning in the world can't prepare anyone for what will come next.
Harper will do whatever it takes to ensure that the Phoenix won't rise out of the ashes a fourth time.
Buy Link: https://www.amazon.com/Eroded-Resistance-Peace-Operatives-3/dp/1943549966
Join us later this year for the chilling second half of Harper Davidson's story when The Peace Operatives continues!