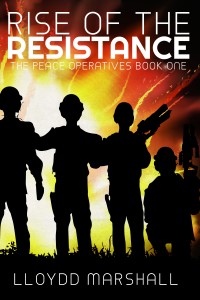 Book #1 of 6 of The Peace Operatives Series
Pages: 235
Action/Adventure: Science Fiction
ISBN: 978-1-943549-94-8
eBook: $0.99 | Print:  $14.95
Available at all of your favorite booksellers.
Keeping the peace is far from a peaceful process
400 years in the future, Harper lives a dual life navigating a political landscape in which peace is enforced by the Big Nine – former world powers who now sit on the Prime Minister's Cabinet.
To the public, she is Harper Mitchells, the daughter of the Secretary of Peace. To those who know her, she is Agent Harper Davidson, a member of the Peace Operatives Initiative.
It's been two years since a fatal mistake left three of her friends, including her lover, dead, and Harper is finally moving forward with her life in Sector 1086: Paris. Tasked with overseeing the efforts of five proto-agents, rookies vying to become Peace Operatives, Harper has a new role to play in the grand scheme of the Initiative – guide and prepare those who will come after her to keep the peace.
Opposed to the new world order, there are those who hide in the shadows, demanding change in the worst way possible. Led by Leon Downs, the Resistance of the Phoenix is a lethal organization that will stop at nothing to usurp the current administration.
Buy Link: https://www.amazon.com/Rise-Resistance-Peace-Operatives-1/dp/194354994X