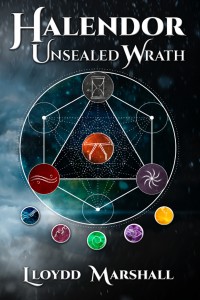 Book #3 of 21 Halendor Series
Pages: 431
Fantasy/Science Fiction; Strong Female Lead
ISBN: 978-1-943549-98-6
eBook: $4.99 | Print:  $18.95
Available at all of your favorite booksellers.
Aurora, Eric, Britney, Lina, and Aaron are the Elements, the most powerful modern-day coven to walk the worlds. The five friends are just starting to show promise in their abilities, but there are those who will do anything to undermine their progress. The Elements have defeated powerful enemies and made new allies in only a few short months, and now it's time to face their greatest threat so far: their predecessors. The five previous Elements have been brought back from the brink by the Seer with only one condition – kill or be killed. 
While Elements new and old clash, villainous forces pulling the strings are making final preparations to free their Mistress, Ira, the Queen of Wrath from her magical seal. With everything on the line and foes that know how to use their powers better than they do, the Elements must find a way to overcome the odds in order to protect everyone they hold dear.
Secrets will be revealed and alliances will be made, and when the fabled Lost Princess is identified, the war for her life will bring everything to a head.
Buy Link: https://www.amazon.com/Unsealed-Wrath-Halendor-Lloydd-Marshall/dp/1943549982