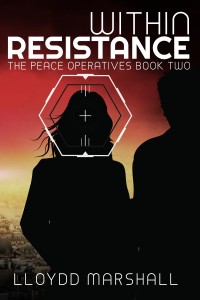 Book #2 of 6 of The Peace Operatives Series
Pages: 255
Action/Adventure: Science Fiction: Political Thriller
ISBN: 978-1-943549-95-5
eBook: $2.99 | Print:  $14.95
Available at all of your favorite booksellers.
Keeping the peace is far from a peaceful process
It's been six months since the Eifel Tower Bombing that claimed Calvin Morton's life, and Harper has been doing everything in her power to move forward as both the daughter of a politician and a Peace Operative. In the process of being cleared for duty, however, a once in a lifetime opportunity arises: the chance to see her old teammates for a brief reunion in Rome. Harper is torn between seeing people that understand the loss she is going through and stepping back into the line of duty to oversee the progress of her proto-agents' training.
After ultimately deciding to go to Rome, Harper realizes that sometimes, choices are made for you.
With an unknown enemy trying to tear down all that Harper holds dear, everything is at stake, but the twists and turns that Harper and her team must face shows just how strong she really is. Harper is a fighter, and she won't back down even when the world is burning around her…or when someone deadly has her in their sights.
Buy Link: https://www.amazon.com/Within-Resistance-Peace-Operatives-2/dp/1943549958