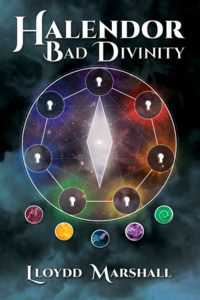 Book #4 of 21 Halendor Series
Pages: 424
Fantasy/Science Fiction; Strong Female Lead
ISBN: 978-1-943549-88-7
eBook: $4.99 | Print:  $18.95
Available at all of your favorite booksellers.
Seven Boxes. Seven Keys. Seven Powers.
The Elements are back, training their powers with the knowledge that peace never lasts for long – and their fears hold true when a powerful sorceress comes to town with the intention of claiming the Ascending Light: the source of power for a Princess of Halendor.
In the weeks since their last battle, Aurora has found herself dreaming of visions she can't quite explain, but when a demon lurks within the shadows of her mind, she must ask herself an important question – can the world only be black and white?
Aurora, Eric, Britney, Lina, and Aaron have found unity, in their powers and their strength as friends, but with Lisa's departure to Halendor, their dynamic has shifted and they find their confidence in question. Tasked with gathering seven boxes and keys that hold an immense power, the Elements will face new enemies and find new friends in a harrowing adventure.
A new foe lurks in the shadows, and if the Elements cannot band together, they may not survive.
Buy Link: https://www.amazon.com/dp/B01MZFK43G/